1.1.1 Positioning and Tracking
Through the on-line Positioning Platform or the cell phone to locates target at any time, and get the working status.
1.1.2 Triggering Emergency Alarm

When emergency happened on the vehicle, you can press SOS button and the tracker will send out alarm to the authorized numbers.
1.1.3 Remote controlling oil
You can control the oil via the unit by SMS in anywhere and anytime.
1.1.4 Remote Monitoring

In anywhere and anytime, call the phone number in the unit, after it connects, you can monitor the sound around 5 meter.
1.1.5 Movement Alert
Send SMS to the unit to start the movement alert function. When the vehicle is over-speed, the unit will send the over-speed alert to all authorized numbers.
1.1.7 E-fence
Set up a geo-fence for the unit to restrict its movements within a district. The unit will send the message to all authorized numbers when it breaches the district.
1.1.8 Auto Track
You can set up auto track by SMS or on-line positioning platform.
1.1.9 Remote control
You can cut off power supply and oil supply by SMS or on-line real time tracking platform.
1.1.10 Compatible with the original anti-theft alarm
It will send SMS alarm after the original anti-theft alarm warning.
GSM Module

GPS Chip

GPS Sensitivity

GPS Centual

GPS Accuracy

GSM Accuracy

Speed Accuracy

Time Accuracy

Warm status

Cold status

Highest altitude

Max speed

Acceleration of Gravity

GSM850/900/1800/1900MHz

SIRF 4 Chip

-159dBm

L1, 1575.42MHz

5-25m

100-500m

0.1m/s

Same as GPS

1S

38S

18000M

515 M/S

?4g
Temperature

Humidity

Voltage

Power

Average Power

LED

External Alarm Switch

-20---65?

5%---95%

10V—25V

10V—25V

?80MA

Indicate the working condition and other conditions of GPS & GSM

For Emergency
TS-T28 (GPS tracker with longer battery)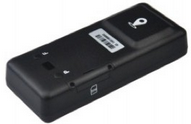 TS-A10 (Mid size with long battery life)